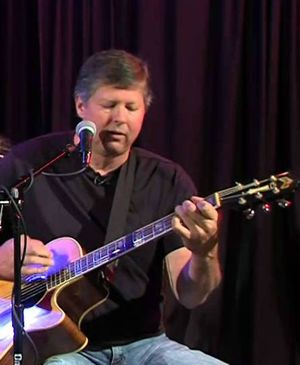 Mike Aceto is a guitarist/vocalist/songwriter with a wide array of musical influences and experiences. A Des Moines, IA native, he has played the Midwest music scene with various bands spanning five decades, ranging from hard rock to country to blues to pop.

While contributing to various groups with his musicianship, vocals, and songwriting ability, Mike also created a forum for his favorite material by developing an acoustic act in the 1980's. "It's an opportunity to basically play whatever I want, whether it be my favorite covers, obscure oldies, or my original material. The audiences throughout the years have been very receptive to the different styles I play and sing for them." The solo acoustic show includes a mix of originals and covers from the 60's to today's music. Some of the artists covered include the Beatles, Pink Floyd, Stevie Ray Vaughan, Dave Matthews, John Mayer, and Chris Stapleton.

His first solo release was the 1995 single, "Someone Special", which received extensive airplay on Des Moines-area radio. The song was written about Mike's daughter, and is an anthem to his commitment to his family. On this recording, all the sounds heard are generated by Mike, as he played every instrument (three guitar tracks, bass, acoustic drums, and two keyboard tracks) and contributed four vocal tracks which produced a tune with powerful harmonies and rich melodic textures. The song was re-released in 2001 on the "Chapters" CD.

In 1997, he joined the Des Moines rock quintet Rabbit Punch, a group comprised of top regional musicians, as lead guitarist and backing vocalist. His recordings with Rabbit Punch included a spot on a live compilation CD of Des Moines-area groups put out by a local radio station, and an 11 track CD, entitled "The Life and Times of Richard Cranium". On "Richard Cranium", Mike's contributions included all acoustic and electric guitar work and background vocals in addition to writing or co-writing many of the songs. The song "Leaving Home", which was also re-released on "Chapters", is a haunting, classical/folk instrumental which further demonstrates the complexity and mystery of this talented musician.

In early 1999, Mike left Rabbit Punch to focus on solo performing, songwriting and family life. He constantly tours with his solo acoustic act and with his trio, performing at top public and private venues.  

Discography includes a solo CD entitled "Chapters", a 13-track original project released in June, 2001. The project, "Leftovers:  Adventures In Cellophane", was released in April, 2008.  The concept album "Dive Bar Diaries" was released in January, 2022, with tracks inspired from nearly four decades of live performances in small midwest venues.
TRIO ACETO BAND MEMBERS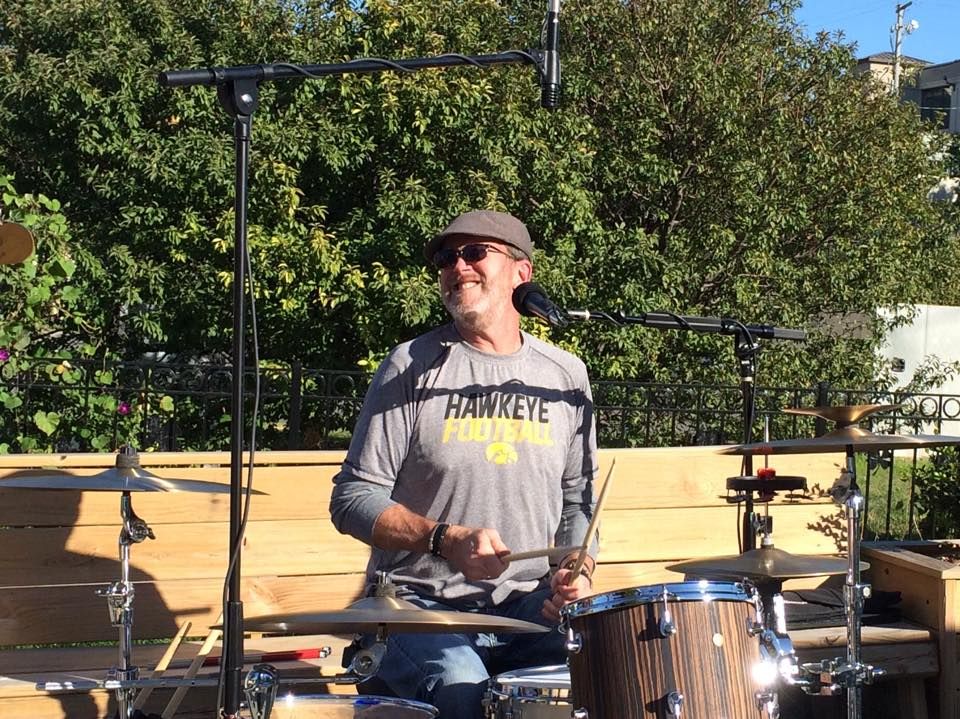 KEVIN BEST - Drums and vocals
"The Beast" offers his unique skillset of precise drumming while providing spot-on lead and backing vocals.  His talent has paved the way for the trio's unique interpretations of cover songs, along with powerful arrangements of the trio's original music.   Also born and raised in Des Moines, Kevin is a well-known mainstay in the local music scene with multiple projects, leading his classic rock band, ElectroBeast, as rhythm guitarist and lead singer, and with his musical versatility on full display in his solo acoustic act, Acousti-Beast.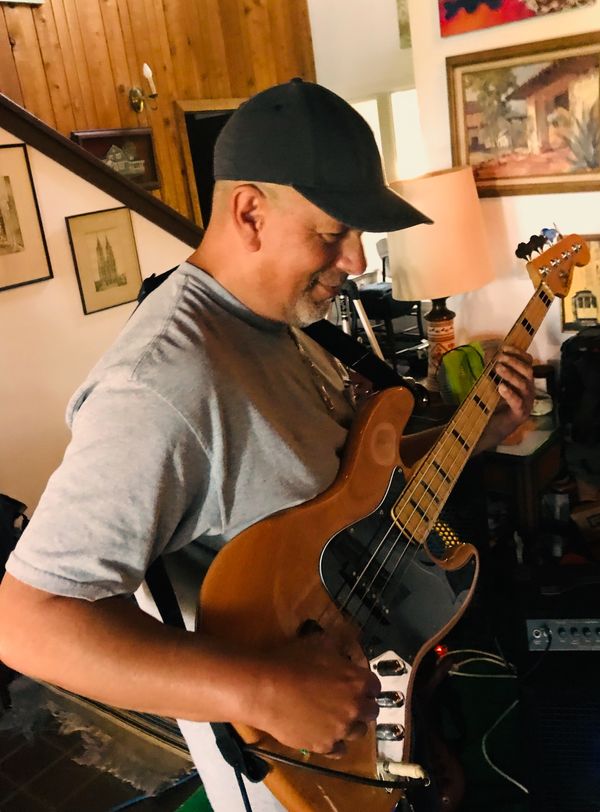 MIKE HALL - Bass and vocals

Laying down the foundation of the trio's sonic blend, Mike's contributions, both instrumentally and vocally, round out the fullness and overall body of tone, something one would not normally expect from a band with only three musicians. An accomplished guitar player as well as bassist, Mike has showcased his talents from Des Moines to Chicago and back again over four decades, and this experience combined with a drive to meet new musical challenges is proven in the performance of the trio's continually expanding catalog of songs.
REVIEWS...
 
"The singer/guitarist/songwriter has been on the music scene here for 25 years, and has a loyal following of fans. In the late 1990's he was a member of the group Rabbit Punch. His eclectic live sets include covers and original songs."  -Joe Hawkins, former Datebook Editor, Des Moines Register 

"An acoustic guitarist and singer, Aceto writes heartfelt, country-tinged folk songs highlighted by his deep, emotive vocals. He works as a solo artist and with a full band; the latter reveals his tendencies to compose friendly, slightly grandiose Classic Rock." -Will Lerner, Listen.com 

"Mike Aceto is one of the most respected acoustic guitar/vocalists playing around our fair city.  People love this guy wherever he sets up..."  -Randy Van Hosen, Stars For Iowa 

"Thank you so much for playing. You did an amazing job and helped make our day perfect.  If you ever need any references we would be happy to help you out. It was better than we dreamed of. We will also be referring our friends and family to you. Thank you so much!"  -Ross and Emily Eveland, Slater, IA (wedding ceremony and reception featuring solo acoustic)

"Just wanted to drop you a note and let you know how happy we are following our wedding. You and your band were incredible and we continue to get compliments. If you ever need a reference for any future gigs let us know and we'd love to sing your praises."  -Lucas and Kate Beenken, Des Moines, IA (wedding reception featuring solo acoustic and Trio Aceto)
"Mike played great music for my 50th birthday party. Excellent talent, great showmanship and interaction with the crowd. Highly recommend Mike!!!"  -Kristi Chapman, Urbandale, IA (private party featuring solo acoustic)

"Thank you so much for coming out to Blank Park Zoo to play at Zoo Brew!  It was a wonderful evening with over 1,000 guests.  Loved working with you all and look forward to seeing you at the zoo again soon!"  -Jenny Harmeyer, Events Manager, Blank Park Zoo (Zoo Brew event featuring Trio Aceto)
"Thank you so incredibly much for playing Oktoberfest!  We always enjoy having you at all of our events and we are thrilled you're doing Indulge once again.  Thanks for all you do to promote, prep and perform at our events, you always bring a great show and energy!  Thanks again and Prost!"  -Mindy Toyne and Steevo Andrews, In-Any-Event, LLC (Oktoberfest Des Moines, Indulge-A Wine Cheese and Chocolate Affair, and Swine-Where Cork Meets Pork events featuring solo acoustic and Trio Aceto)
"I just wanted to pass along how many compliments I got about the music at the Casey's Charity Golf Outing. People loved it."  -Kristin Spindler, Administrative Services Manager, Casey's General Stores (corporate reception featuring solo acoustic)
"This powerful threesome delivers acoustic and electric interpretations of all your favorite classic and modern tunes."  -Prairie Meadows Casino, Racetrack and Hotel, Altoona, IA (public and private events featuring Trio Aceto)
"Mike – THANK YOU.  You were awesome last Friday and I was so busy – had to go get extra cash twice and keeping up with all the beer sales, added hand washing stations, and JUST A CRAZY NIGHT.   Great crowd – I estimated over 1000 as that was our biggest crowd since 2019.  Have a great summer and thanks again for making Friday night memorable!"  -Doug Harris, Recreation Manager, City of Clive Parks and Recreation (Food Truck Friday event featuring solo acoustic) 
https://www.cityofclive.com/parkandrecreation/programs_and_events/special_events/food_truck_fridays.php
 
"Mike reminded me of a piano bar with a guitar. . .playing crowd requests from Johnny Cash to Bon Jovi. My favorite was an original song — Watering Hole — that could be the Iowa Roadie's theme song." -The Iowa Roadie
iowaroadie.com